Kiwanis Club of New Delhi (KCND) is a charitable NGO.  It was established in 1978 with Shri Dharma Vira, ICS as President and its founder members included Shri L P Gupta, Dr. Charat Ram, Dr. K K Modi and Dr. Bhai Mohan Singh amongst others.  Shri Raj Kumar Jajodia has been the prime mover of the Kiwanis movement in India and it was on his initiative that the Club was formed and the Charter Certificate Presented to the Club by the then President of Kiwanis International.
The "Kiwanis Bhawan" which houses the Kiwanis Club of New Delhi was constructed during the tenure of Sh. Dharma Vira as President, at B-35, Qutub Institutional Area, New Delhi-110 016.  The plot of land was purchased through Delhi Administration in 1993 and a 6 storey building was constructed.  The fund was raised by garnering donations from its members.  Shri S.N.P. Punj, Dr. K.K. Modi and Shri R.C. Burman came forward with very generous contribution of Rs. 25 lakhs each.
Kiwanis Bhawan was inaugurated by the then President of India, Hon'ble Shri K.R. Narayanan on 23rd December 2000.
KCND started its charitable work by adopting a backward village called Meoka in Gurgaon district, with an aim of improving the quality of life of its residents.
Initially, the idea was to house only the Artificial Limbs Centre (ALC), but as the resource position and the admin-ability became apparent, several facilities were added.
The Club always encouraged diversification and as a first step, a ladies club in the name of Kiwanis Club of New Delhi (L) was established.  Then, Physiotherapy Cum Pain Clinic was set up and thereafter Cerebral Palsy Centre (CPC) was added.  The Club has been active in upgrading the current portfolio of services which it offers free of cost and now it's looking for uplifting it to a State-of-the-Art Institution.
KCND was chartered as an affiliated club of Kiwanis International, USA on 4th August 1978 and the Charter Certificate was presented to the Club by the then President of Kiwanis International.
Kiwanis International, which is the Parent Body of KCND, is a global community of club members and partners dedicated to improving the lives of children one community at a time. It is one of the first service clubs established in the United States and is regarded as one of "the big three" service clubs.
It is one of the first service clubs established in the United States and is regarded as one of "the big three" service clubs. Kiwanis along with the International Association of Lions Clubs and Rotary International make up 90 percent of the total service club memberships. Kiwanis enables the community to actively and easily participate in civic service events and volunteering while engaging with others on a global scale. Because the clubs are mostly comprised of business personnel, Kiwanis encourages networking while also strengthening the communities where the businesses are located. Currently 550,000 Kiwanians in more than 80 countries hosting nearly 150,000 service projects each year. Kiwanis is especially active in the community and local efforts in identifying and catering to important needs. Kiwanis members devote more than 19 million hours of service and raise almost $100 million every year for their communities. Kiwanis International has provided community services such as building all-access playgrounds, creating food pantries, hosting diversity fairs and many more.
It is headquartered in Indianapolis, Indiana, United States and is comprised of different types of clubs to meet the needs of a diverse world. These Club types were created to attract potential members who share common lifestyles and to offer service opportunities to more people. A few examples are Classic Kiwanis Club, Internet-based Club, Young Professionals Club etc.
The objectives of Kiwanis International are:-
(a) To give primacy to the human and spiritual, rather than the material values of life.
(b) To encourage the daily living of the "Golden Rule" in all human relationships. "Golden Rule" Do unto to others as you would like other to do unto you.
(c) To promote the adoption and application of higher, social business and professional standards.
(d) To develop by percept and example a more intelligent, aggressive and serviceable citizenship.
(e) To provide through Kiwanis Club a means to form enduring friendship to render altruistic service and build better communities.
(f) To co-operate in creating and maintaining sound public opinion and high idealism which makes possible increase of righteousness, justice, patriotism and goodwill.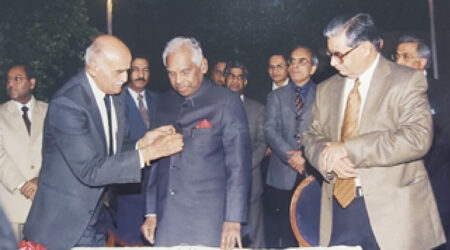 Inauguration of the Artificial Limbs Centre by the Hon'ble President KR Narayanan
Inauguration of the Physiotherapy Clinic by the Hon'ble Chief Minister of Delhi  Smt. Sheila Dixit
Front (Left to Right) Sheila Dixit, Mrs. Satya Mehra, S.N.P. Punj & Sant Sanganeria Back (Left to Right) R.C Nirula, D.V. Kapoor & ACM O.P. Mehra