Kiwanis Club of New Delhi (KCND) is a non-profit charitable organization based in New Delhi to provide artificial limbs free of cost to the needy who had given up the hope of leading healthy lives.  Founded in 1978 with Shri Dharma Vira, ICS as President and its founder members included Shri L P Gupta, Dr. Charat Ram, Dr. K K Modi and Dr. Bhai Mohan Singh amongst others.  Shri Raj Kumar Jajodia has been the prime mover of the Kiwanis movement in India and it was on his initiative that the Club was formed and the Charter Certificate Presented to the Club by the then President of Kiwanis International.
The "Kiwanis Bhawan" which houses the Kiwanis Club of New Delhi was constructed during the tenure of Sh. Dharma Vira as President, at B-35, Qutub Institutional Area, New Delhi-110 016.  The plot of land was purchased through Delhi Administration in 1993 and a 6 storey building was constructed.  The fund was raised by garnering donations from its members.  Shri S.N.P. Punj, Dr. K.K. Modi and Shri R.C. Burman came forward with very generous contribution of Rs. 25 lakhs each.
Kiwanis Bhawan was inaugurated by the then President of India, Hon'ble Shri K.R. Narayanan on 23rd December 2000.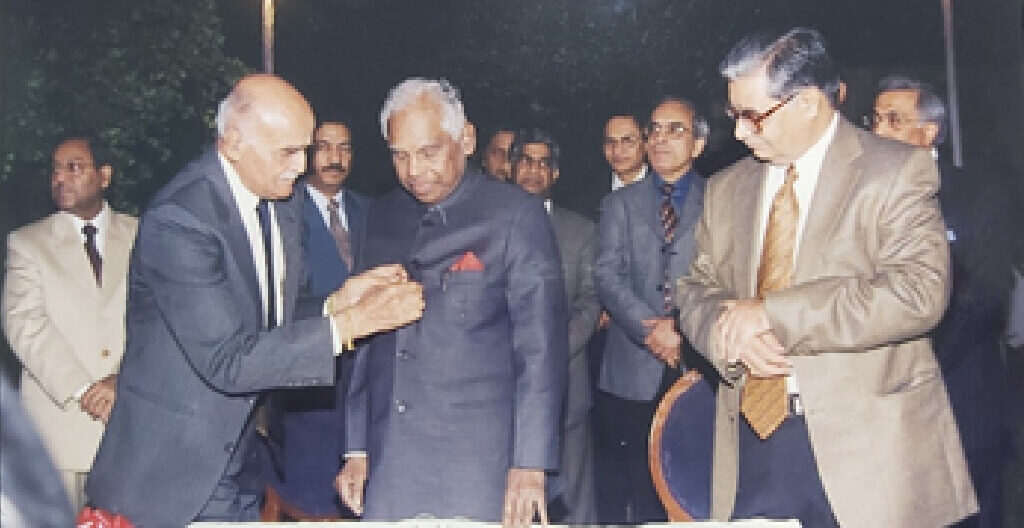 Inauguration of the Artificial Limb Centre by Lt. Shree K R Narayanan, Hon'ble President of India on 23rd Dec. 2000
Charter Presentation by Mr. Maurice Gladman, Kiwans International President on 4 th of August 1978
Formation Day on Kiwanis Club of New Delhi on 25 th April 1978
Inauguration of Kiwanis Physiotherapy and Pain Clinic by Lt. Shree Sheila Dixit, Hon'ble Chief Minister of Delhi on 30 th September 2003.
Inauguration of Meoka School Building donated by Kiwanis Club of New Delhi 7 th October 1984.
Artificial Limb Camp for Indian Army, Nowshera, Jammu on Feb. 2020